On 23-25 September 2022, an intensive three-day SMART Summer School in Interlingual Respeaking for Language professionals was organised at the Centre for Translation Studies, University of Surrey. The Summer School focused on guiding language professionals from different walks of like through the tasks required for interlingual respeaking, an emerging speech-to-text practice where live subtitles are created in interaction with state-of-the-art speech recognition software.
The short, intensive course applied a new approach to learning this complex practice and was structured around the key task-based skills required in respeaking, namely simultaneous listening and speaking/translating, adding software-adapted delivery, punctuation, and related strategies for chunking and dealing with speed, and error correction. This progressive and incremental approach to upskilling builds on existing skills of language professionals from different language-related practices and was firstly developed and tested online within the framework of the SMART project 'Training-for-Testing' (April-September 2021).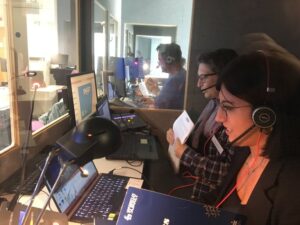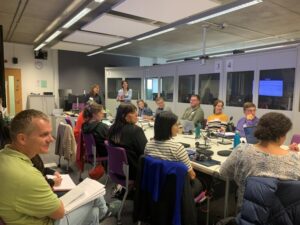 During the three days, Dr Elena Davitti, Dr Annalisa Sandrelli, and Dr Tomasz Korybski offered evidence-based training in both intra and interlingual respeaking to a cohort of language professionals, with a language combination of English and either French, Italian, or Spanish and varied professional backgrounds, ranging from (a combination of) translation, simultaneous and/or consecutive interpreting and traditional as well as live subtitling. By breaking down the process in such core components, participants could pinpoint what skills they had already acquired as part of their professional background, what they needed to adjust for the purpose of respeaking and what they had to acquire from scratch, thus being able to tailor training to their individual needs. As pointed out by one of the participants, "I like the way the skills are broken down into small building blocks and having the chance to try them separately before building them together".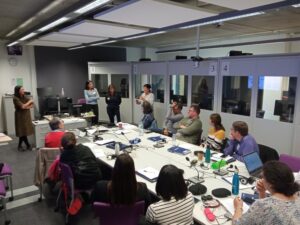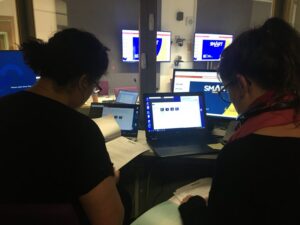 In addition, building on the notion of competence as a broad concept going beyond just procedural skills (knowing how), participants had the opportunity to acquire industry-based knowledge about this practice by listening to interesting talks delivered by representatives from the broadcaster Sky, partner in the SMART project, who also provided invaluable feedback throughout the duration of the Summer School. Insights on how the human brain is involved in this highly cognitively demanding activity and what interpersonal traits may best support the acquisition of this practice were provided by Dr Anna-Stiina Wallinheimo who, together with Dr Simon Evans, is part of the team of cognitive psychologists contributing to the study.
Further editions of the Summer School will be organised in the future, and we offer consultations services to tailor our upskilling course to different professionals and needs. Do not hesitate to get in touch if you have any questions and wish to find out more!